Research conducted at Stanford University showed that the success of the company depends on two factors: 12.5% depends on the knowledge and experience of the main managers and employees, and the rest of 87.5% depends on the ability to connect with people – internally and externally.
Reading time: 5 min
A good party, a crazy concert, an interesting festival, or a great conference? Everything is possible! Even though as true experts in the entertainment industry, we love to party, go crazy, and dance, we also love to learn, think and acquire new knowledge just as much. In addition to the entertainment aspect of events, we are real professionals in the field of virtual, hybrid, and on-site conferences. A large number of conferences are behind us, and even more, are in front of us. Supporting business events through the access control and registration system allows us to be part of a team of the greatest experts in many areas of lifelong learning.
Discovering the latest trends in the industry is extremely important for the development of your business. Network, boost your business, and learn something new!
WHY ORGANIZING CONFERENCES IS A GREAT THING?
Conferences are specialized professional events that help grow a business by connecting with industry peers as well as potential customers. And that's why we bring you the most important reasons why you too must organize a conference.
1. Discover the latest trends in your sector.
2. Meet the most successful professionals in your industry.
3. Acquire irreplaceable knowledge and apply it in your business.
4. Find out everything about the best practices of today's most successful companies.
5. Use the opportunity to socialize in order to expand your network of acquaintances even more.
6. Increase your brand awareness.
7. Know your competition.
WHAT DOES ENTRIO OFFER TO CONFERENCE ORGANIZERS?
Free registration platform.
A modern platform for on-site, virtual and hybrid events, Entrio saves organizers time, increases revenue, and expands reach. In just a few clicks, you can publish your physical, hybrid, or virtual event for free, and your tickets or registration fees will be available online in an instant. Do you charge for your event, what is the name of your event, and what is the selection of ticket categories – these are some of the questions you will answer when you set up your event on Entrio. Organize your conference now!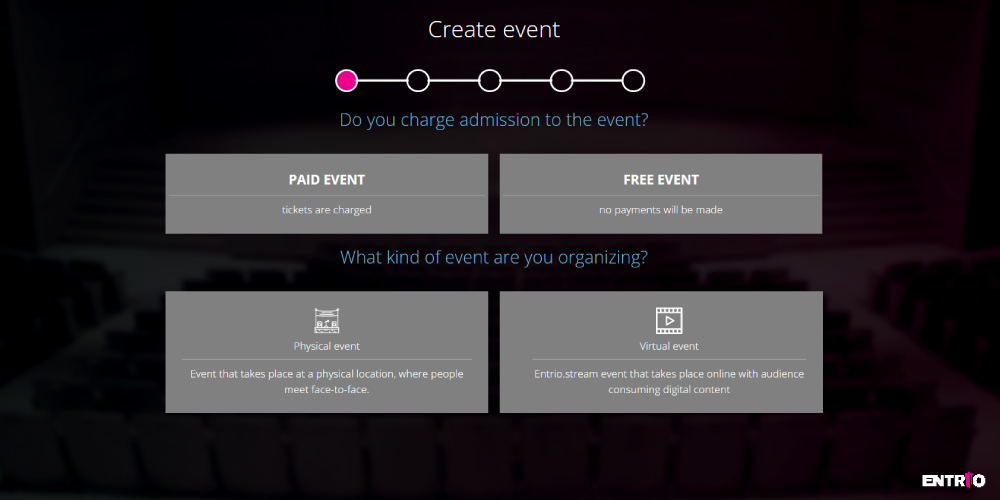 Visually adapt the event page to the spirit of the conference you are organizing.
The colors of your conference, logo and various other visuals can be found in the space provided for the poster, banners, or background of the event. Considering that customers more often decide to buy registrations for events that have visuals, we definitely advise you to use this great option.
Your own organizing panel.
You will find statistical data such as the demographics of your audience, the number of tickets sold, the sources through which the audience buys tickets, and much other information in the organizer interface of your event. Also, within the ORG panel, you have the option to create Promo codes for your event. Create a promo code for a discount, free tickets, or X + Y for free.
Registration and accreditation services in the field.
We gather the best field staff who will provide the conference visitors with the service of issuing accreditations, registration, control the entrance and being available for all their inquiries. Experienced young professionals have many event matches behind them, and that's why every event will go smoothly. Regardless of the size of the conference and the number of visitors, the Entrio team has developed and integrated systems ready for any situation.
Marketing services.
Choose one of our marketing packages and present yourself to your target audience in the right way. Copy that reflects the spirit of your event, written in the language of your potential visitors, increases the likelihood of conversions. By targeting the right interests and our database, your ad will reach an audience that is interested in your conference. Entrio marketers equipped with knowledge and experience will increase the reach, engagement, and traffic of the content of your conference.
A virtual platform you can rely on.
Although we hope that the pandemic period will never return, the option of organizing virtual events is still – an option. Gathering an audience from all over the world? No problem, the Entrio hybrid system is the solution. Entrio Project Managers are responsible for the flawless functioning of virtual and hybrid events and are supporting you every step of the way.
Customer Service for customers.
The inquiries of your potential and existing customers are in the right hands. Email support is available every working day, and our Customer Service team has answers to all your visitors' questions.
Customer Service for organizers.
Every working and non-working day, our Customer Service team is here for you. We will answer all your questions as soon as possible! Regardless of how many tickets you will sell for your event, Entrio support has your back – by email or phone.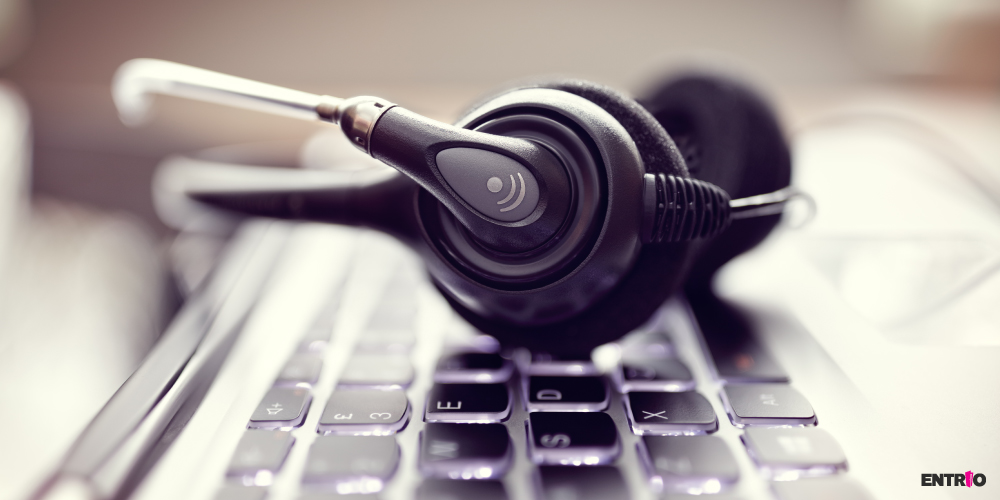 THE NUMBER OF CONFERENCES WE HOLD THIS YEAR INCREASED TO A DIZZYING 72! LEARN MORE ABOUT SOME SUCCESSFUL CONFERENCES WE HAVE WORKED AT.
TONI MILUN FINANCIAL LITERACY CONFERENCE, Zagreb
Toni Milun generously shared practical financial tips for smarter management of business finances! Toni's ease of imparting knowledge, directness and immediacy have delighted many followers on social networks for years, and Entrio supported this conference with its registration system.
INFOBIP SHIFT, Zadar
The global IT community of programmers, software engineers, and other IT professionals gathered in Zadar for a two-day hybrid conference. Fun, interactive and educational content was part of every panel, workshop, and networking event. Welcoming visitors worldwide through registration services, badge printing, access control, and a virtual platform was an exciting task for Entrio!
REBOOT DEVELOP CONFERENCE, Dubrovnik
While the world's best gamers learned about new industry trends, Entrio equipped visitors from around the world with registrations and badges. The three days of the gaming conference were full of informative lectures, workshops, and panels, and we are happy to have been a part of this great experience.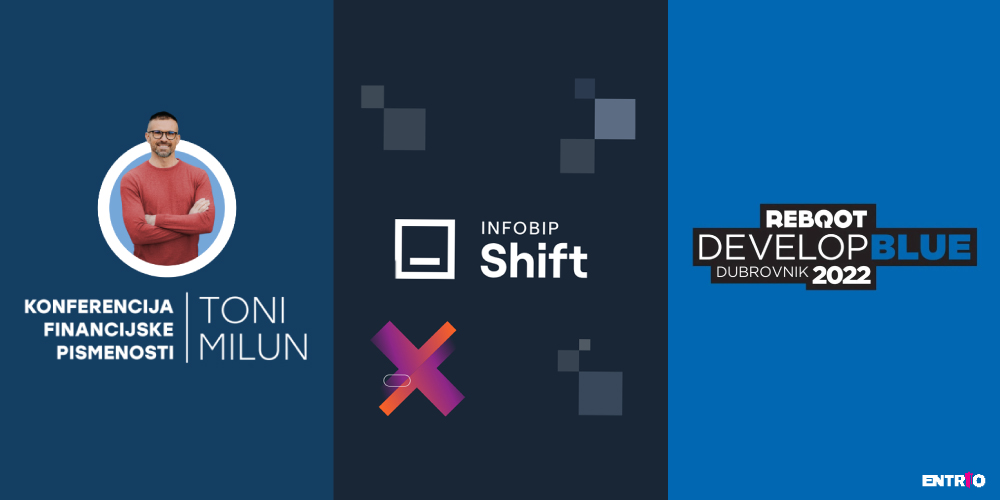 TO CONCLUDE.
Regardless of whether you are developing your own business or want to gain new knowledge and experience, the organization of conferences is a very important item in the process of determining the direction of the success of your business system and career. And that's why… organize your conference and partner with the Entrio team for all the ticketing benefits.
We are at your disposal for all questions and suggestions! 😊
Author: Jana Maljoku