What tools you need to organise a hybrid event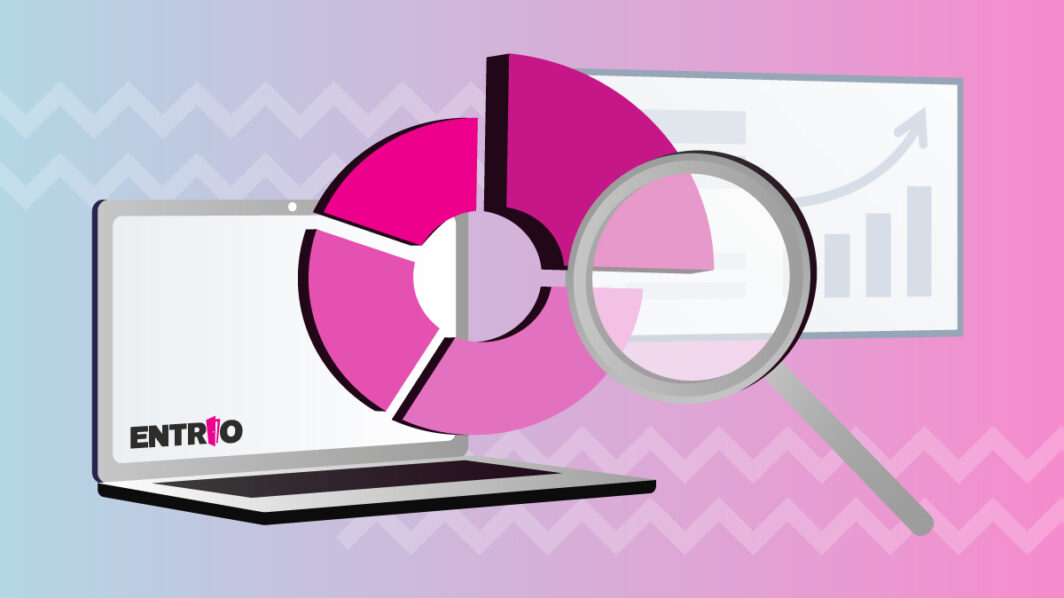 Going hybrid can have multiple benefits. With right tools, you can get an increased reach, audience, higher engagement, bigger sponsorships, and marketing opportunities.
Reading time: 5 min
And how to make sure your hybrid event goes well?
We've all been there
Organizing hybrid events can seem like a complicated process, especially while you have to keep an eye on both in-person and virtual segments. Nevertheless, going hybrid can have multiple benefits, and some of them we've mentioned in our previous blog posts – you can get an increased reach and audience, higher engagement, bigger sponsorships, and marketing opportunities – and most importantly, your target audience can get an even better experience by being able to tune-in from all over the world. But the question remains – what tools do you need in order to organize a top-notch hybrid experience and how to make sure it all goes down smoothly?
The first step is to define what your audience actually needs – both in-person and virtual
Depending on the type of the event, your audience's focus can vary from the ones that need a simple setup including easy access control and seamless online streaming to the multiple stage events with online and offline coffee breaks, exhibitor booths, and additional event app so your audience can make the most out of your event.
When it comes to the set of tools you should use, once you have defined your target audiences and the goals you'd like to accomplish with your hybrid event, here are a few things you should have in mind: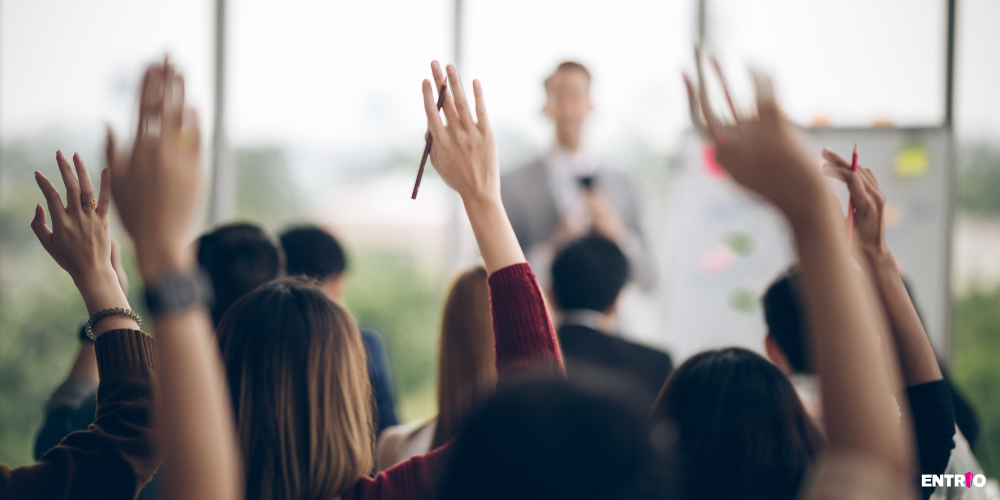 Keep it simple with an all-in-one event management platform
One tool to rule them all – this is probably one of the most important things while setting up your hybrid experience. There is nothing worse than having to navigate your audience on a variety of different platforms in order for them to register to depend on the fact if they will be attending in person or virtually. Furthermore, last-minute changes are always possible, especially with the ongoing COVID-19 pandemic, so it's safe to provide a possibility to simply change the ticket type at any given moment – not to mention the hassle of event organizers having to follow up their sales and statistics on multiple different points of sale.
Get to know your platform – inform as much as you can
Organizing events always include multitasking on so many levels, and that's why it's important to try and plan ahead as much as you can – take your time to inform on all of the possibilities a hybrid platform can give out to your audience. For example, would you like to offer a detailed registration process for your attendees or you'd want to simplify it by sending out a clear, one-click RSVP style of an invitation? Should you keep a focus on the main stage or offer multiple different fully branded rooms for your online attendees to hang out in? Everything is possible, which brings us to the next useful toolset…
Have it your way – customization is the key
While choosing your hybrid event platform, it's important to understand the possibilities of customization so you could get the maximum potential out of it. In each event, there is a variety of things you'd need as well as the ones your event possibly doesn't require. For example, if you want to secure virtual coffee breaks with your online attendees joining through a videoconference mode, it would be safe to say you'll have to choose a platform that offers both streaming from location, as well as a two-way videoconference streaming module during breakout sessions. Furthermore, be sure to provide a detailed branding of your event – together with all of the visual elements incorporated into the hybrid platform – your audience will appreciate it!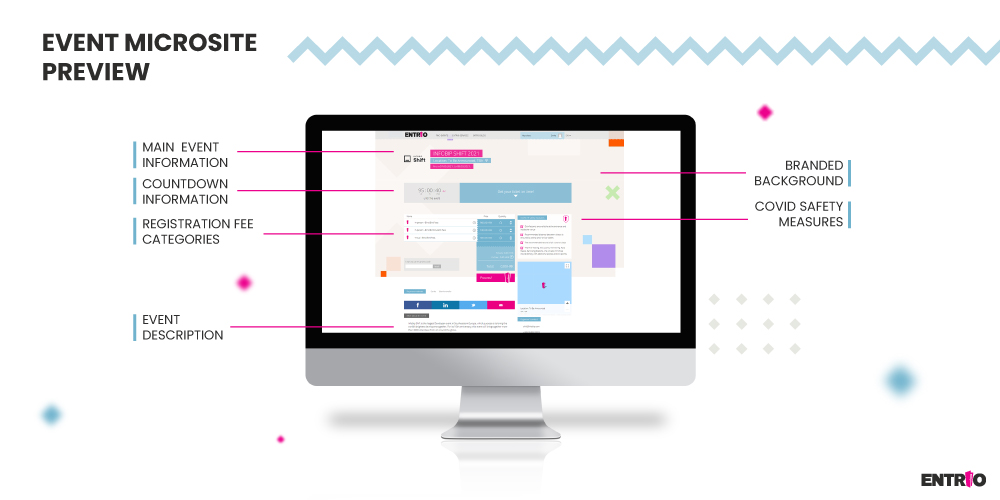 Prepare a safe and stable Livestream and think from your audience's point of view
One of the most important tools while organizing hybrid events is using a safe and stable Livestream that involves hiring a video production crew on location which will provide different tools and skillsets closely connected to providing a seamless stream – from renting out video streaming equipment to the crew dedicated to this segment only. And don't forget to test, test, test – as much as you need! Testing out the streaming is usually one of the most basic and most important things you should do.
Furthermore, be sure to always have a backup – especially while using the internet connection provided at the location itself. While hiring a video production crew, have in mind what your location offers – is there enough light? How many keynote speakers you'll have? Is there a need for an additional sound system at the location?
While going over these things, keep in mind your audience attending online as well – if possible, engage them in streaming with multiple cameras, offering a much better online experience.
Use easy access-control systems
While thinking of your audience, have in mind the hassle of the registration process on the day of the event – everything needs to go down as smoothly as possible which includes an easy and reliable access control system – but what does it actually mean? While talking in terms of on-site registration, you can provide multiple ways for your attendees to register – whether by scanning a QR code or by checking in your attendees with their first and last name – the possibilities are endless. The same goes for your virtual attendees joining in with a direct link to the virtual lobby they could explore. What's important is to ease up the process while keeping your registration stats clear.
Now when we've provided a few basic tools and things to have in mind while thinking in terms of hybrid events, here are a few extra tips in making sure you have your event going as smooth as possible.
Communicate to your audience
It's never too late to communicate – the more information you provide to your audience – the better! As much as you are providing information regarding the content of your event, it's also important to let them know how to register, use your hybrid platform of choice, communicate with other attendees, and so on.
Engage your audience
One of the most common mistakes is to forget about your online attendees and not to pay attention to them. Make sure you have additional people who will take care of engaging your online attendees by providing answers to their questions, offering pools and surveys, and actively collaborating in the ongoing discussions.
Offer an additional value for money
Of course, this segment is closely connected with your overall event budgeting, but if possible, offer something simple to your audience as a "thank-you" for attending your event, such as additional behind the scenes content, meet and greet modules for your entertainment events, or by providing a possibility of video-on-demand after the event is finished, so your attendees can freshen up their memory and collect some additional useful info.
Keep the conversation going – even after the event is over
Depending on the type of your event, you can use multiple ways to keep the conversation going – by sharing your audience experiences or by offering additional ways to network after the event is over. Keep an eye on providing a simple yet powerful satisfaction survey in order to see how you have reached goals!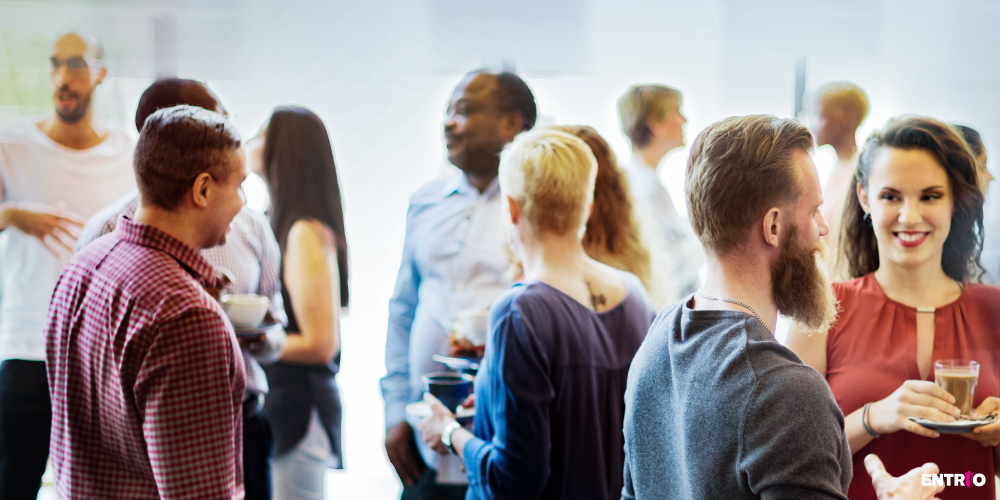 Invest in your crew
In event management, people are the key – that's a phrase you'll hear often. And it's true – it's important to surround yourself with a capable team that will launch your event and makes the most out of it.
To conclude, organizing hybrid events is a live mechanism that often involves a wide range of possibilities you should take into account – by following these simple steps you can be sure you'll provide a memorable experience for your target audience. If you wanna know more about the way Entrio can help you in managing your hybrid events make sure to contact us or schedule a demo.
Author: Nina Vrdoljak