Graffiti na Gradele is a festival with humble beginnings. Now they became a real festival, and the future looks bright!
Reading time:
How to organize Graffiti na Gradele, a boutique festival that happens on the island of Brač during the peak season for tourism? How did this festival become a phenomenon and still retain its soul despite constant growth? We spoke with Marko Boko, the founder of the festival and main organizer of Graffiti na Gradele, to find answers to these questions.
The island of Brač is one of the most beautiful islands in the Adriatic Sea. There lies the charming town of Bol, filled with beauty, rich cultural heritage, famous beaches, and tradition. It doesn't stop there. Bol has a graffiti festival!
What is "gradele"? Simply put, it's a grill used for fish-grilling, and the word is widely used in coastal Croatia. The word itself comes from the Italian word "gratella". In addition to grilled fish, Bol has "graffiti on the grill". We'll never use this formulation again; we just felt the explanation was necessary.

The festival started as a small, friendly gathering and evolved into a festival that has a faithful following. Visitors keep coming back every year, happily using their vacation days to spend time in Bol.

How did GNG become a festival?

The beginnings of the festival were hobbyist in nature. Boko readily admits that they still are, despite the festival's growth. His day job is something completely different. Also, most of the team gathered around Graffiti na Gradele works in a similar fashion, finding pockets of time, discipline, and motivation around their daily schedule to make GNG happen.

I do something completely different in my professional life, as do the people involved in the organization. Everyone uses their vacation days to make GNG happen.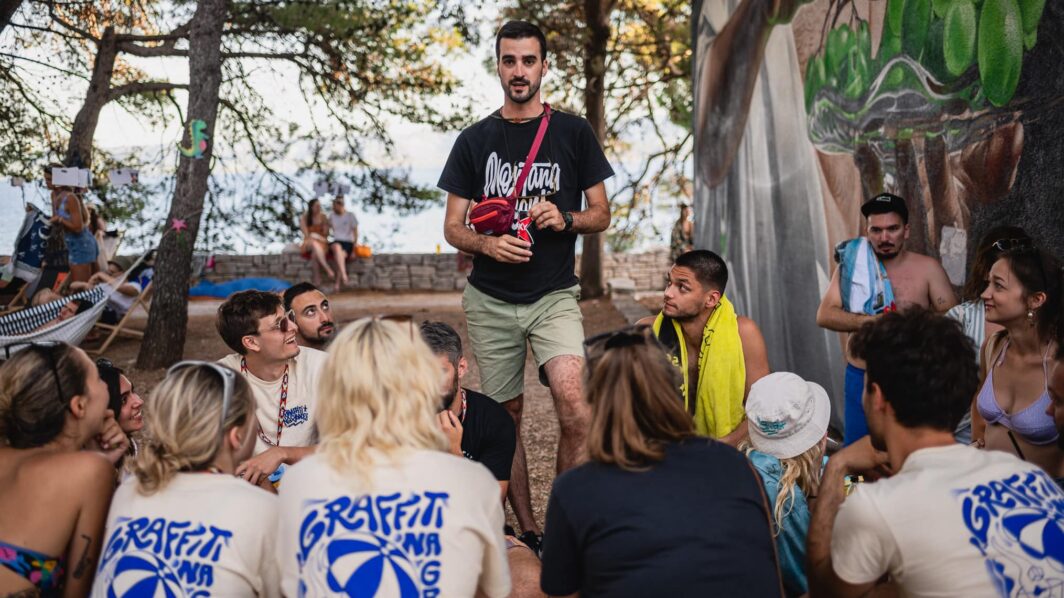 Boko organized GNG year after year but was afraid to call it a full-fledged festival for a really long time.

The festival progressed over the years, and only after the first few editions did we dare to say that it was a real festival. In the last two years, we moved the music part of the program to a club where we have the production and logistical parts secured, and for the last two editions, we have been selling tickets, which completes the definition of a festival.
Changing the location of the evening program has brought a change of pace
Boko emphasizes that the club venue finally enabled them to sell tickets. GNG was mostly a free festival throughout the years. That decision reflected the philosophy of the founder. A change in the model would be extremely hard and expensive to implement.

The first nine editions had both the daytime and evening parts of the festival placed at the former hotel Bijela Kuća (White House), which had been empty for years. Boko, along with graffiti artists, revitalized Bijela Kuća. In 2022, the music program was moved to Club 585 due to safety and logistical reasons, as well as capacity, finally making ticket sales possible. The results of the festival are more measurable, and additional revenue from ticket sales makes organization a bit easier.

 
A breakthrough moments happened in 2017 and 2018. We realized that this was becoming serious. We never planned to become a 'massive festival', nor do we plan to. Moving to the club surprised and delighted us as we noticed that the capacity could continue to grow.
   
A financial boost was achieved through ticket sales, but not everything was smooth sailing.
   
There were challenges. The challenge of introducing the concept of tickets emerged. Their availability in pre-sale, pricing estimates for early bird tickets, pricing estimates for the first wave of lineup announcements, the final pre-sale price, and finally, the price at the door. I spent ten years organizing a festival that didn't have these issues.
   
The festival had a whole range of other problems earlier, most of which were resolved when the music part of the program was moved to the club. The ticket sales and verification processes were a minimal burden. Ticket pre-sales were available at physical locations and through Entrio, and as for entrance control, the process is as simple as it can be. Anyone with a mobile phone and access to an Entrio profile can handle the check and scan the tickets.
  
The team involved in organizing Graffiti on Gradele is special
It is obvious that the public cannot and does not need to be aware of everything that happens behind the scenes, but we asked our interviewee what he would like to make visitors aware of. Boko adds that GNG does not have professional production companies at their disposal like other festivals, yet the expectations are often the same or even higher.

I can't call, ask, or say where I want three large stages to be set up and which bands will perform. All production for both the evening and daytime festivals, as GNG is two festivals in one, goes through the hands of my team and me. From every cable, fence, banner, scaffold, bar, paint can… It first goes through my hands because I have to bring it to the island, and then I have to set it up.


Although the peak of the season on the popular island of Croatia may sound romantic, it is also a challenging circumstance. The costs compared to 2019 and even 2022 have increased significantly, but the festival has managed to handle that shock for this year's edition.

Feeding, transporting, accommodating, and paying people is sometimes an absolute logistical chaos. And the issue of transportation is not just transferring everything to the island but also across the island because Bol is on the other side of it.

How did they manage finances and budgets over the years?
Until the festival started charging entrance fees, they attained funding through selling refreshments or donations. The significant change came through collaboration with sponsors and successfully applying for projects.

Collaboration with sponsors, mostly private companies, is extremely important to us. We work with partners who have been by our side over the years; they have become our friends in the meantime. Through these revenues, we manage to finance the festival. We also manage to cover a small part of our expenses through merchandise sales.

Boko emphasized one important thing when asked about approaching sponsors and securing sponsorship deals.
It's essential to be aware of your uniqueness. What are you offering a company as added value? We provide companies with a space for additional communication about their services and products. We grant them access to a certain type of audience, all in an interesting and fun way that is organic. You need to put yourself in the shoes of the sponsor. What can they achieve through collaboration with you? What do they want? Why is your story special? We have Bol on Brač, summer, graffiti and murals, a brilliant and loyal audience, and an excellent organizational team, which makes us unique. We can't just be another music festival; there are plenty of those.
He also mentioned something that is often forgotten. It's not just about taking money from the sponsor; it's about providing value to the sponsor and approaching the relationship in a fair and responsible manner. Without mutual love and respect, there is no satisfaction.

It's important to handle that sponsor with care. The goal is not to take their money. You need to be fair and honest so that the sponsor understands and justifies their investment. Anyone who has entered into cooperation with us continues it happily. So far, no sponsor has dropped out.

Online presentation and visibility are very important throughout the year
GNG takes visual presentation seriously as seen by their social media posts on Facebook and Instagram; as well as merchandise: T-shirts, socks, towels, tote bags… Photos from the festival are available online the morning after, and everyone eagerly awaits the after-movie that easily captures the atmosphere. It is evident that this is one of the important aspects of the festival itself.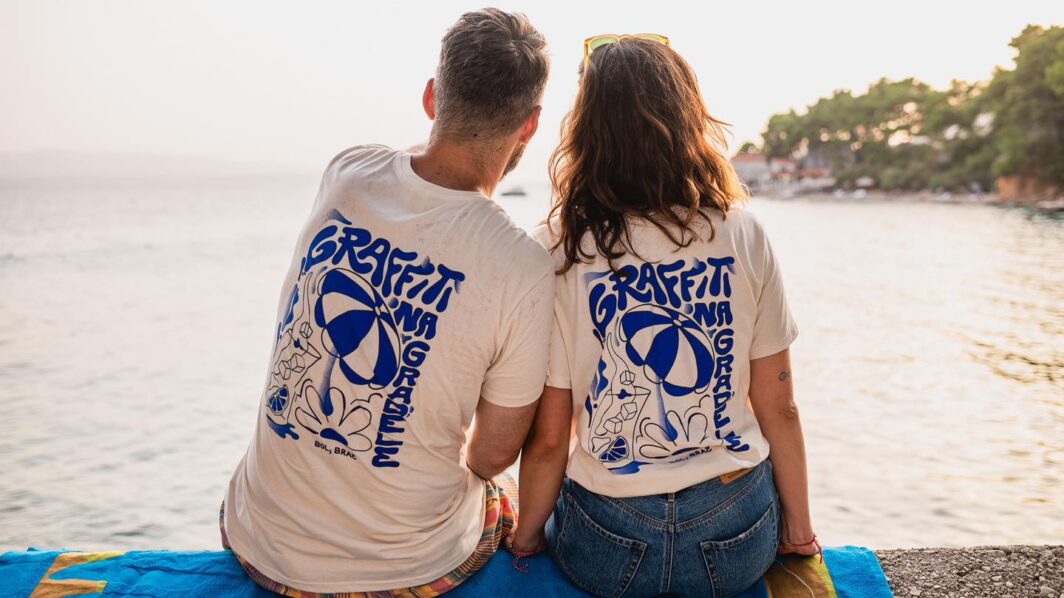 Boko agrees that visual presentations means everything.
If it's not captured in photos, in design, in visuals, and in video, it didn't happen. Antonija designs everything (visuals and merchandise), Ana-Marija communicates everything, and Lopac takes all the photos—capable and excellent people are really the key.

GNG has a quality team when it comes to visual presentation, whether it's design, photography, video, or their approach to social media. These individuals understand the festival's tone of communication, and the results do not disappoint.

Even when the festival is done, it's not over
Contrary to popular belief, the festival isn't over when the festival program ends. After the program of Graffiti na Gradele ends, the team on location has several more days of intense work ahead of them.

You think you're done, but all of that needs to be dismantled. Everything needs to be lifted by hand; trucks can't access Bijela kuća. Many trucks arrive at once, so we need to handle all of that. Return the location to its original state. Settle all accounts and write reports. The end of the festival shouldn't look like you just cut it off; it needs to slow down and have a natural progression. This includes photos, videos, and communication.

What about feedback?

They also touched on feedback from the audience, which will be implemented in future editions of the festival.
Feedback is visible on social media, but the invisible one is word of mouth. That's the best marketing; next year, one satisfied person might bring some of their friends.

Graffiti na Gradele has pretty close and direct communication with its audience. The audience doesn't see them as distant corporate entities. The audience understands unity and cooperation as the recipe for success.
To come to Brač, you have to have a strong desire to come. You don't come for three days, but for five. You bring someone you care about. People come back. When you see a full club, during the day you see the crowd at Bijela kuća, people participate in everything—swim, socialize. That's the feeling we chase.

What does every organizer need to know?
You need to be aware of what you're doing. You shouldn't organize a festival that shares the formula of the neighboring village's festival. Both the audience and sponsors will realize that the neighboring village already has everything. You won't get the support you need. If there is a reason why festivals are important to you, if you're ready to push through anything that comes your way, it means you're committed. That's a good sign; you will find a way. If you're doing it just for profit, you won't do well. In Croatia, you can't make a living from festivals, especially just one. You need to check if there is an audience or a need for a particular festival, and then embark on its realization.
Author: Franjo Opačak