Are you organizing a concert in Zagreb? Along with the city's rich cultural offerings, concert halls represent the heart of the music scene. Our mission here at Entrio is to …
Reading time:
Are you organizing a concert in Zagreb? Along with the city's rich cultural offerings, concert halls represent the heart of the music scene. Our mission here at Entrio is to make it easier for you to choose the ideal venue for your next musical event. This short and informative guide will take you through the most prominent concert halls in Zagreb. Each of them has its own rich heritage and has hosted numerous successful events. From traditional to modern spaces, we'll provide you with all the information you need to successfully plan your big concert. Or conference. This article is the first in a series of articles on concert possibilities in Croatia, so bookmark our blog as other venues in Zagreb and other cities will soon be featured.
What are the concert halls in the city of Zagreb?
In this text, we will introduce Dom Sportova, Cibona, Arena Zagreb, Hala Zagreb, Blagoje Bersa Concert Hall, Vatroslav Lisinski Concert Hall, and Tvornica kulture.
We can't mention concert halls without talking about Dom sportova
Address: Trg Krešimira Ćosića 11, 10000, Zagreb (Google Maps)
The Dom sportova (roughly translated to Home of Sports) already holds the status of a veteran concert hall in Zagreb, even though it didn't start its journey as a concert venue.
Dom sportova consists of eight halls, with the most famous being the Large and Small Hall, where numerous sporting and musical events take place. The Large Hall has 5,000 fixed seats, which can be increased to 6,358 seats, with 1,000 standing places in the gallery. When considering the court itself for concert events, an additional 2,000 seats or 3,000 standing places can be made available. It's appropriately called Large.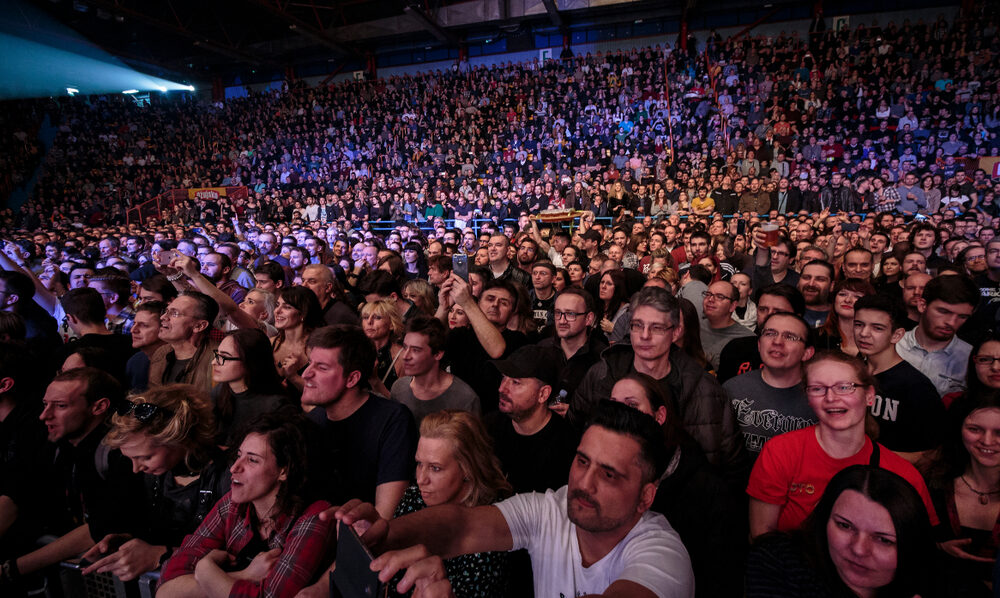 The Small Hall provides 3,100 seats on fixed stands. Additional seats can be set on the court.
In 1995, Sports Square changed its name to Krešimir Ćosić Square. Krešimir Ćosić is a Croatian basketball legend, and he participated in the opening of Dom Sportova. Selection of the best European basketball players played against the USA.
Deep Purple was the first major rock band to perform in Yugoslavia. First, they played at Pionir in Belgrade, and the next day, they played at Dom sportova. Over the years, relevant music stars have graced its stage—Queen, The Rolling Stones, Elton John, and many others. Cibona played its most important games at Dom sportova, all the way until 1987, and Dražen Petrović lived in the building across Dom sportova. Dom sportova is also home to the world's oldest figure skating competition, Zlatna pirueta (translated as Golden Spin).
Website: Dom sportova
And what about Cibona Hall (Dražen Petrović Basketball Center)?
Address: Savska 30 (Google Maps)
The Cibona Sports and Business Center was built extremely fast, just in time for the 1987 Universiade. Today, the multipurpose sports hall has a capacity of 5,400 seats and often hosts concerts, so it is classified as a concert venue as well.
Since October 4, 1993, the hall has been named after Dražen Petrović, and it is also known as "Dražen's home." In 2006, the Dražen Petrović Museum and Memorial Center was opened next to the hall.
The hall is well connected to the rest of the city via major roads and tram lines, and there is a large parking lot behind the hall.
Website: KK Cibona / Hall
Arena Zagreb hosts biggest names in music
Address: Ulica Vice Vukova 8 (Google Maps)
Arena Zagreb has become one of the city's symbols thanks to its recognizable visual and architectural concepts. It was built in 2009 and is the newest large concert hall on this list, but also one of the largest. It was primarily built as a sports hall for the 2009 World Handball Championship.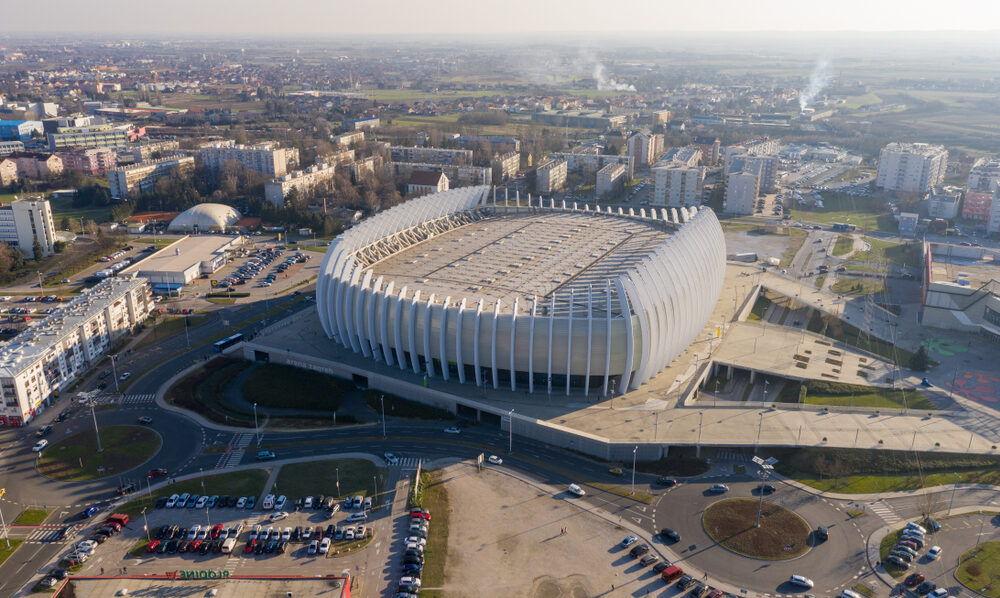 The basic seat configuration provides 15,024 seats.
The arena covers a floor area of 29,540 square meters, and if all levels are taken into account, the gross area amounts to an incredible 90,340 square meters.
It is located in the southwest part of the city, in Lanište, and is easily accessible by car and bus, with tram lines nearby as well.
The first event at Arena Zagreb was a friendly handball match between the Croatian and Russian national teams, and the first concert was held a few weeks later, featuring the Croatian legendary rock band Prljavo kazalište. Beyoncé started her tour in Zagreb and became the first global superstar in Arena.
Website: Arena Zagreb
Even smaller concert halls like the Blagoje Bersa Concert Hall play an important role in the city's cultural landscape
Address: Trg Republike Hrvatske 12 (Google Maps)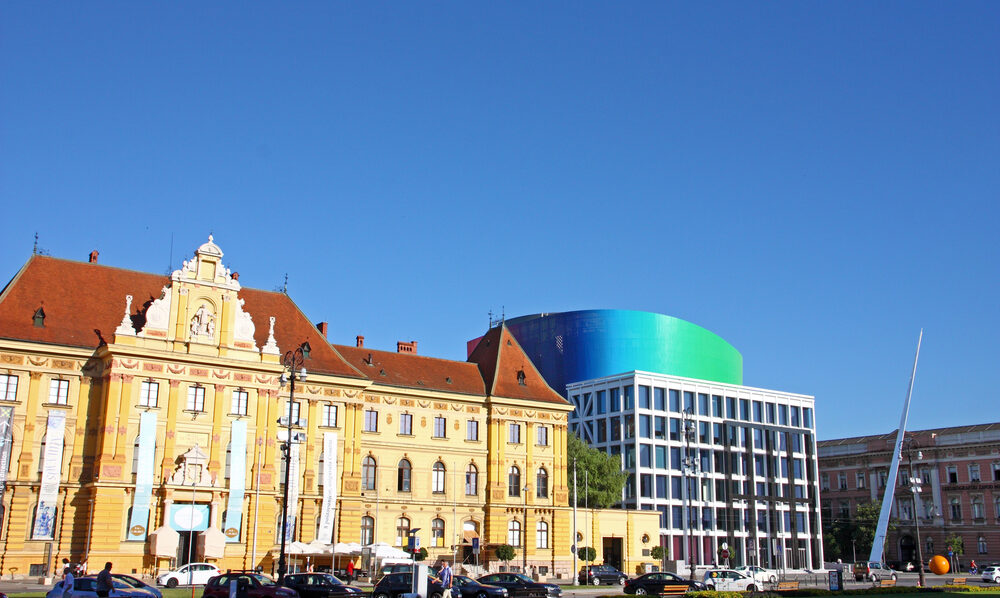 The Blagoje Bersa Concert Hall is the newest concert hall in Zagreb and is located in the building of the Music Academy, opposite the Croatian National Theatre. It was designed as the center of the educational process at the Music Academy. It was also expected that the hall would become the center of Zagreb's cultural life. It has 300 seats available, and the hall is equipped at a high level. With a variable stage and audience geometry, an orchestra pit, lifting platforms, a dance floor, stage lighting, a cinema screen, and a projector, it's no wonder that it is considered one of the best concert halls in the city.
Website: Blagoje Bersa Concert Hall
We can't write about concert halls without mentioning Vatroslav Lisinski
Address: Trg Stjepana Radića 4 (Google Maps)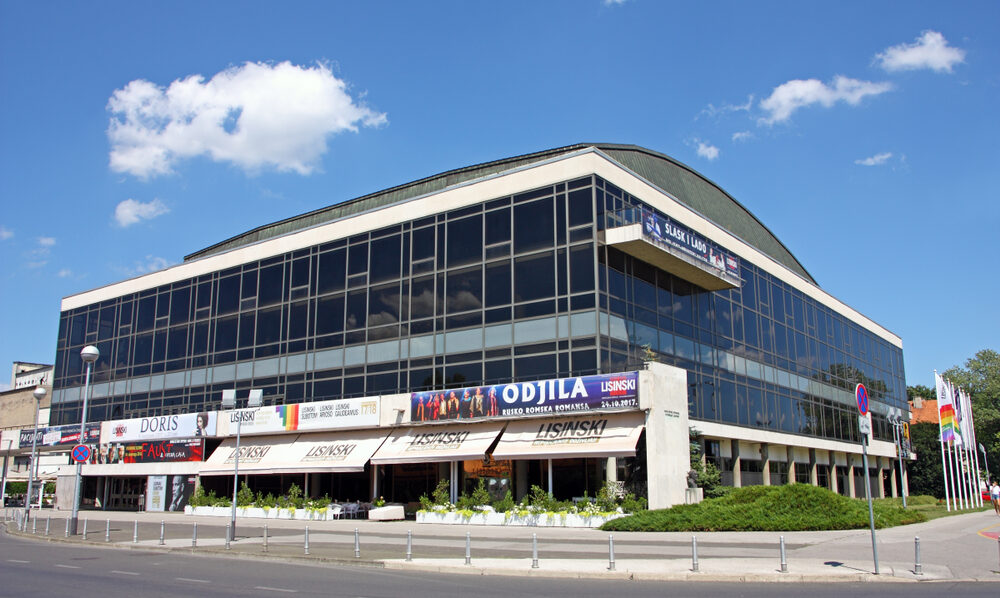 The concert hall, in the truest sense of the term, is named after the great Croatian composer Vatroslav Lisinski, the author of the opera "Love and Malice" ("Ljubav i zloba" in Croatian).
The hall was built and opened in 1973, and December 29 is celebrated as Lisinski Hall Day. The hall celebrates a huge milestone this year. It will be 50 years since its opening. The hall has enriched the cultural offerings of Zagreb and Croatia, hosting an impressive roster of ensembles and soloists, as well as popular music stars and stand-up comedians. It is also home to congresses, meetings, exhibitions, performances, and film screenings.
It consists of the large hall, the small hall, four meeting rooms, and lobbies. The large hall can accommodate 1,896 people, and the small hall can accommodate 304 tickets.
Lisinski is one of the symbols of the city. In addition to top conductors, ensembles, and soloists, some of the biggest stars of pop and jazz music have performed at Vatroslav Lisinski Hall, including Tina Turner, Ray Charles, Sting, Nick Cave, Chris Cornell, Arturo Sandoval, Cesaria Evora, Omara Portuondo, The Platters, Dizzy Gillespie, Ella Fitzgerald, Sarah Vaughan, Dianne Reeves, Juliette Gréco, Natalie Cole, Chick Corea,
Website: Vatroslav Lisinski Concert Hall
Hala Zagreb is like a Transformer – it can turn into anything
Address: Slavonska Avenija 3b (Google Maps)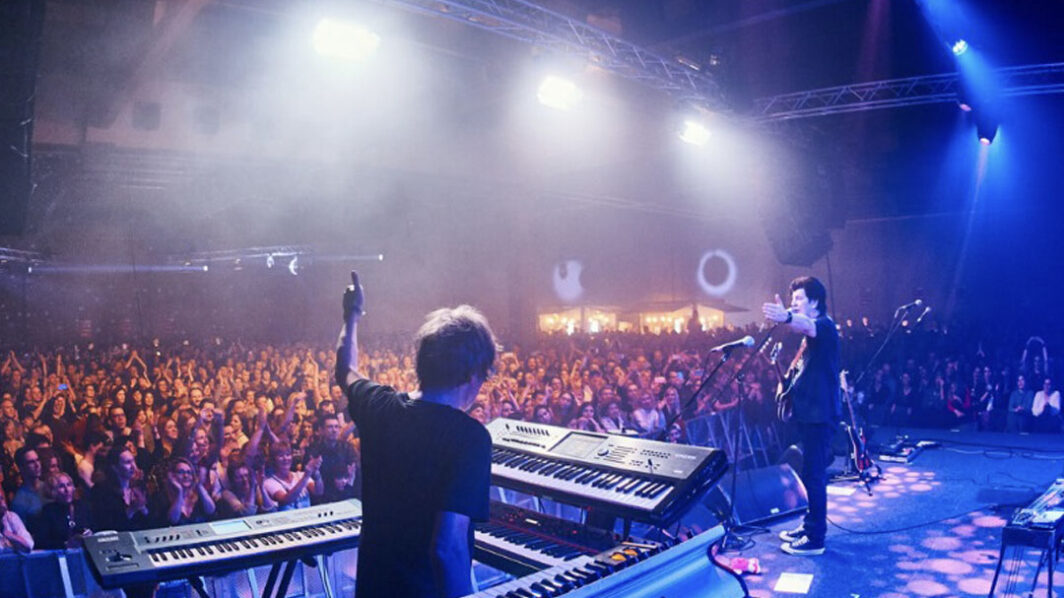 Hala Zagreb is a multimedia center in the truest sense of the term, located on Heinzelova Street. The spaces have a multifaceted purpose, making Hala Zagreb ideal for various types of events. It can be used as a club space, concert hall, festival location, or congress center.
The whole place screams "industrial design", and it is located along two major roads (Heinzelova Street and Slavonska Avenija), well-connected by bus and tram lines. The outdoor area can accommodate up to 5,000 people during the warmer months. Zagreb Arena also has its own parking.
Tvornica kulture is a unique concert club space in the city
Address: Ul. Pavla Šubića 2 (Google Maps)
The legendary Tvornica, a home of urban culture, offers excellent production possibilities and has become a brand of the city. It proudly holds the title of the largest concert club space in Zagreb, and there are slim chances that anyone will contend for this title. Tvornica opened its doors in 1999 and established an opportunity to develop the musical taste of the Croatian audience right in the city center. Since its inception, Tvornica has never experienced an identity crisis; it's clear what kind of institution it is and what kind of program it offers.
It consists of the Great Hall and the Small Hall, which can function separately but also combine as two zones for specific events.
The Great Hall can accommodate up to two thousand people, and the sound and lighting effects are adjusted to meet world standards and riders of major global stars.
The Small Hall serves as a place for gatherings and coffee meetings, with a usable space of 143 square meters and the capacity to accommodate up to three hundred people.
It is recommended to use public transportation or take a walk to a concert since parking can be an issue.
Website: Tvornica kulture
Author: Franjo Opačak