In the following blog post series, we will cover some of the best ways to promote your event. Let's roll with VOL 2.!
Reading time: 3 min
HOW TO SELL MORE WITH TICKET CATEGORIES?
Offer various ticket categories (e.g. early bird, standard, VIP) with different pricing tiers to cater to different budgets and interests.
Announce the exact time when tickets will go on sale in advance. It is a good practice to create excitement and anticipation, it helps fans' planning process and increases transparency.
Announce when the ticket prices will increase. It helps fans budget, encourages early ticket sales, helps manage expectations, and also increases transparency, which can help build trust and confidence among fans.
BLIND BIRD TICKETS
Blind bird tickets often refer to early-bird tickets for a music event that are sold before the line-up of performers has been announced. These tickets are usually offered at a discounted price as a reward for fans who are willing to buy tickets without knowing who will be performing. The idea is that these fans trust the event organizers to deliver a great experience, regardless of the specific artists involved. Once the line-up is announced, ticket prices may increase, so buying blind bird tickets can be a way to save money while securing a spot at the event.
EARLY BIRD TICKETS
Early bird tickets are a type of discounted ticket for events, such as concerts, festivals, theater performances, and sporting events, that are sold at a lower price before the regular ticket sales begin. These tickets are often available for a limited time and are sold on a first-come, first-serve basis. The idea behind early bird tickets is to reward fans who purchase tickets early with a discount and encourage early ticket sales, which can help generate excitement for the event and ensure a successful turnout. They are a great option for fans who are eager to secure their spot at an event and save money in the process.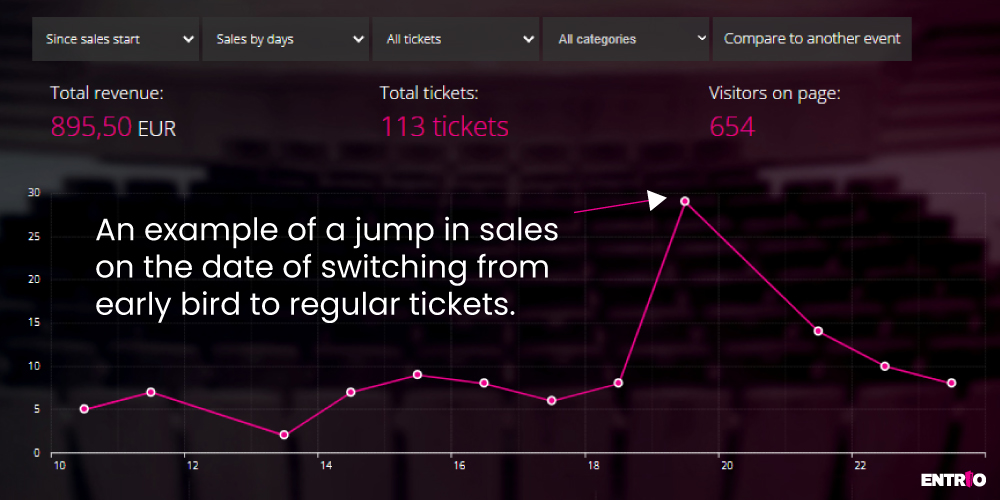 REGULAR TICKETS
The regular ticket category refers to the standard, full-priced tickets for an event. These tickets are usually sold after early bird tickets or other discounted ticket categories have been made available. Regular tickets give attendees access to the event and are usually the most commonly purchased type of ticket. The price of regular tickets can vary greatly depending on the event, the venue, and the popularity of the performers or teams involved. In general, regular tickets offer the same level of access and seating as early bird tickets, but without a discount. However, the exact benefits and restrictions of regular tickets will depend on the specific event and the organizer's policies.
LATE BIRD TICKETS
Late bird tickets are a type of ticket category that are sold closer to the event date, usually, after the early bird and regular ticket categories have been made available. These tickets are usually sold at a higher price than early bird tickets and can be a more expensive option for fans who want to attend the event. The purpose of late bird tickets is to allow fans who missed out on early bird or regular tickets the opportunity to still attend the event. Late bird tickets can also be used as a way for event organizers to maximize ticket sales and revenue, especially if the event is expected to sell out.
Do you want to learn more about promotion and better sales of events?
Read more in a blog post series How to successfully promote an event? [VOL 1.]
Author: Zrinka Bockovac